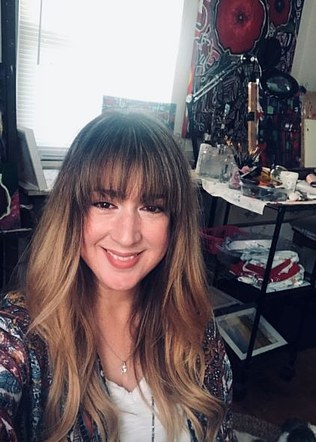 "I challenge myself to capture a contrast of emotional chaos and playfulness in my work. Allowing personal anxieties and memories to coexist with self-acceptance. The process can be mentally draining as well as rewarding. The journey is never the same and the final piece reflects a visual aggression mixed with gestures of carefree mentality. Human emotions of heartache and despair are never too far away from a brighter outlook on life if we allow it. Everyone has had an experience they would prefer to forget or ignore, but there are somethings we may need to accept before we can move on. From there we can hopefully learn to embrace our faults and utilize the gifts we are each born with."
Rose Murphy's mixed media abstract paintings explore her personal conflicts growing up with undiagnosed learning disabilities; ADHD and dyscalculia (a disability/understanding and working with numbers). As a 1st grader, she was burdened by her teacher, an extremely tyrant nun. The entire experience was so detrimental that it left Murphy with acute anxiety, a damaged self-image and a loathing for school.
Murphy paints to capture her frustrations against an essence of playfulness. She often includes numbers in her work, expressing difficulties with arithmetic and calculations. Murphy begins the process by applying a thick textured layer of gesso onto large unstretched canvas. Using a selection of acrylic and house paint, Murphy saturates the surface building a contrast of dark and light. Once the pigment is partially dry, she vigorously rubs and scrapes the diverse mass of intertwined forms, sometimes using her hands. Numerous gestures, numbers, words and symbols are scratched or drawn using ink, crayon, oil sticks and pencil. Murphy manipulates each piece of work as it occurs intermiently until she feels it has completed it's journey.Murphy graduated from the Maryland College of Art and Design with a degree in Fine Art. She has also studied at the Corcoran School of Art and Maryland Institute College of Art. She has dedicated over 20 years teaching art in early childhood programs and is an advocate for the Reggio Emilia Approach. Murphy participates in local funding and auctions for children in need. She is devoted to helping children express themselves through creative endeavors.